Thursday 15 December, 2022
Alumni Q&A: Banuta Rubess (Ontario & St Antony's 1978)
Banuta Rubess is a theatre artist and writer who pioneered feminist theatre, diaspora theatre, and contemporary opera to national renown in Canada and Latvia. 
Can you tell us what you are working on at the moment?
I'm looking for a publisher for my hybrid memoir, Bruno Slept Here, the story of my father's experiences as a teenage yogi forced into a German uniform during World War II. I'm working on a new book called Tell No One, a study of the personal cost of being under surveillance, rooted in my misadventures with the KGB - while I was a Rhodes Scholar, by the way. I'm also bringing an exuberant opera film, a German/Latvian co-production, to Toronto — it's called Banuta, which is only one reason that I'd like everyone to see it. And I teach nearly every day this term at the Centre for Drama, Theatre & Performance Studies at the University of Toronto — provoking young people into being actors and directors of theatre.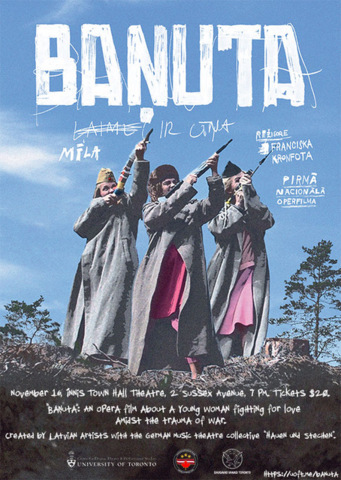 What are you passionate about? 
I stand up for the arts, a passion sorrily underrated by the Rhodes Scholarship, though arts and culture are the staff of life. Creative work is what mega-corporations such as Amazon and Netflix feed upon. TV dramas influence elections. It's why authoritarian regimes silence the artists first.
I'm horrified by the relentless attacks on women's rights, in the United States especially. 
Due to the war in Ukraine there's a storm of discussion lately around how and why the history of the Baltic States and Ukraine and Poland has been 'invisibilised,' since books about these countries are rarely written or published in English, and instead there is a lot of 'westsplaining'. Most people don't know a single Latvian play, poet, novelist, because they are not translated, it's a nation of less than two million. Latvians have been excluded from the world's narrative, and I do what I can to change that. 
Has your career trajectory panned out as you planned?
I'm sorry, the wording of that question makes me laugh. I'm a theatre artist - I don't work at McKinsey. Risk and failure are baked into the very nature of the profession. If the question is, did my work take me where I wanted it to? then the answer is sometimes yes, mostly no. Being a female theatre director and a mother meant I had to fight considerable road blocks in this male-dominated industry. In Canada, my work helped establish three separate companies — feminist, teen drama, and new opera - and I co-ran an important theatre, Theatre Passe Muraille, which we pulled back from bankruptcy and flung open the doors to a great diversity of artists. Nearly all my shows were nominated for awards, yet you won't find my name in most theatre histories. I have to bang my own drum. 
When I had my second child in 1998, we moved to Latvia and stayed there until 2012. That was a heady time: I directed a lot and wrote a column for the newspaper while raising two small childen. One of my shows is over twenty years old and still running. I was able to mount some amazing productions, but being from the West, being a woman, and above all, being a liberal and a shit-disturber meant that establishment theatres didn't like me that much. At least here I'm not completely erased: local theatre critics give me credit for having been a catalyst for new theatre praxis. 
When my partner fell terminally ill, we returned to Canada, where I now teach. A few years ago I went back to school for an MFA in Creative Writing, and now I'm focused on writing. I'm still dealing with gatekeepers, but I don't need thousands of dollars in order to write a sentence. To make theatre, you need money. 
I invite my fellow Rhodes Scholars to dip into my website and check out how I spent my time: www.banuta.com.
What excites you about the future?
I can't wait for the thirty-year olds to wrest control from the gerontocracies of the world and do their level best to at least mitigate the catastrophic climate changes coming our way. 
What's been the best lesson you have ever learned?
Walking on the edge of life with my late beloved taught me to seize the day: carpe diem. And I'll also add something he used to say: don't be boring. 
Who inspires you and why?
Something I treasure more and more in my life is my circles of friends, especially female friends, and how we treat each other like gardens, coming around every now and then, cleaning out the weeds, urging each other to grow. I don't know what I would do without this sisterhood. Some of these women topple giants, and others are very successful at things the world considers small, like taking care of grandchildren. So I'll say my girlfriends inspire me: all of them, everywhere.
What was your Rhodes Scholar experience like?
I was the only kid in my family to go to university. My parents were refugees and their lives had been disrupted by WWII. Really, Oxford saved me. When I did my undergraduate degree at Queen's University, I couldn't find like-minded people and I felt very isolated. Soon after I arrived in Oxford, I fell in with a group of undergraduates led by Neil Bartlett who wanted to explore alternative theatre practice with a political bent. I had found my tribe. I was supposed to be writing my doctorate, but really that 'extracurricular' work with Neil and those other brilliant students was the beginning of my professional life. After I finished my degree, Neil and I started a theatre company and I was off to the races.
I did get my D. Phil, but I was working in an environment where no one cared about what I was doing, since my dissertation was about a Latvian revolutionary poet, and really, no one cared about Latvia except the Latvians, and the Soviet Latvian authorities declared me a persona non grata soon after I began my studies, so I wasn't allowed into the country until perestroika many years later. 
If you could go back in time, what would you tell yourself about applying for the Rhodes Scholarship?
You might actually get it.